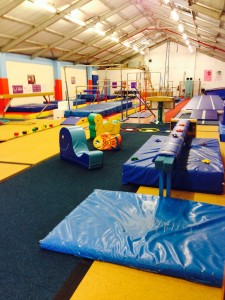 Are you looking for the alternative birthday party for your child this year?
You don't even need to be an existing member to book your party with us.
We hold parties for children of all ages including Under 5s where we will set out our full range of mini equipment and soft play shapes.       Please note: Numbers are restricted to a max of 18.
Children enjoy 1 hours free play in our fully equipped gymnasium before passing through to the Function Room for approx 30 minutes for their party food (supplied by you). There is a 15 minute clear down slot after party food during which time, you hand children back to    parents and give out your party bags etc.  If you'd like a longer party, please call to discuss your requirements.  Standard time slots are  12:30-2:00pm and 2:00-3:30pm.
During the time in the gymnasium, we will supply a qualified coach to ensure the safety of the attendees whilst on the premises. The coach will not be present to teach a class but will assist the attendees achieve what they wish to achieve during their party time. If you wish to      bring your child's favourite CD we will happily play that in the background for you.
We provide funky protective table cloths for the tables, and can provide plates, beakers & juice jug. You are more than welcome to bring your own plates & beakers if you wish.
You need to supply your own party food, drinks and cakes (candles, lighter and knife) and our staff will assist in clearing down at the end of the party.
Parents of your party attendees may stay at the venue whilst the party is taking place.  All this for £130.
We strongly recommend making early bookings as slots fill up quickly.
Parties area only held on Sundays so not to disrupt our training schedule.
Click here for printable Gymnastics Party Rules and Regulations